Rostex
rust converter
to the overview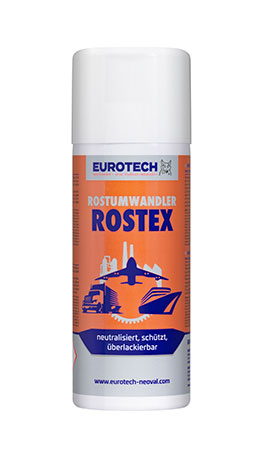 Item no. 815400 400 ml Aerosol can
PRODUCT DESCRIPTION:
Can be used on all kinds of rusty areas. The formation of iron complexes neutralises the rust layer and prevents further rusting, forming a high-quality primer and a reliable protective layer. Free of heavy metals and phosphoric acid.
Remove grease, dirt and loose rust from the areas to be treated, maybe roughening them with a steel brush or sand paper. Shake before use and spray the rust converter directly onto the rust-affected areas and allow to dry. Leaves a blue-black colour and forms a coating primer. Can be overpainted after 24 hrs.
BENEFITS:
neutralises the rust layer

prevents further rusting
is a high-quality primer
reliable protective layer
Temperature range: permanently up to 80°C (briefly < 15 min to 160°C)
Safety data sheet for aerosol can
Print product data sheet