Neo Cut 435
Universal cutting oil
to the overview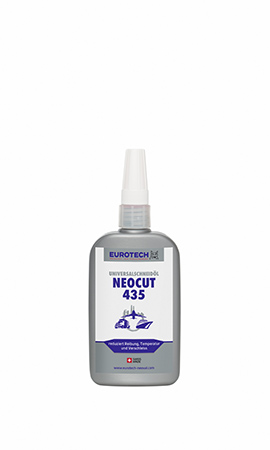 Item no. 823 001 Bottle 100 ml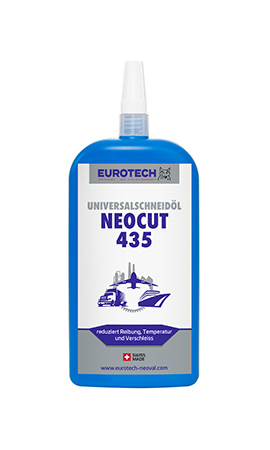 Item no. 823 500 Bottle 500 ml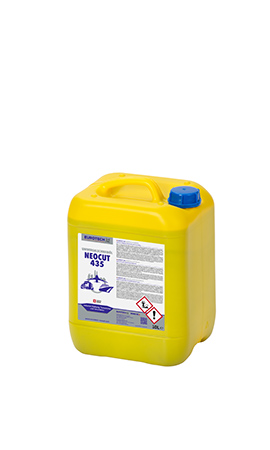 Item no. 823 010 Canister 10 l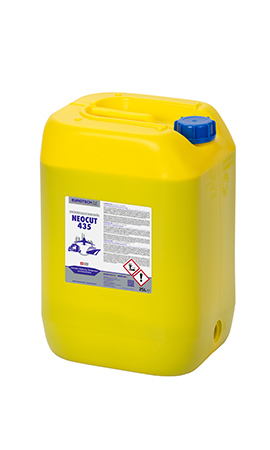 Item no. 823 025 Canister 25 l
Item no. 823 200 Barrel 200 l
PRODUCT DESCRIPTION:
Neo Cut 435 is a cutting oil with a high proportion of Neoval Rubin G8 and EP additives to meet the highest demands. Neo Cut 435 is the sulfur-free alternative to the sulfur-containing Neo Cut 430S.
BENEFITS:
No clogging up and no built-up edges
Low levels of oil mist, non-foaming
best lubrication and cooling properties
improves surface quality
long tool life
excellent corrosion protection
keeps for at least 10 years if stored correctly
APPLICATION AREA:
on all lathes and turning centres for cutting steels with the highest strength and toughness, Cr, CrMoV, non-ferrous metals, light metals and precious metals such as gold, silver and platinum.
very good results when machining titanium alloys.
for turning, thread cutting and cold forming.
PROPERTIES:
Kinematic viscosity at 40°C: 25-27 mm²/s
Density at 20°C: approx. 1.0 g/ml
Safety data sheet
Print product data sheet