L-12
Industrial cleaner
to the overview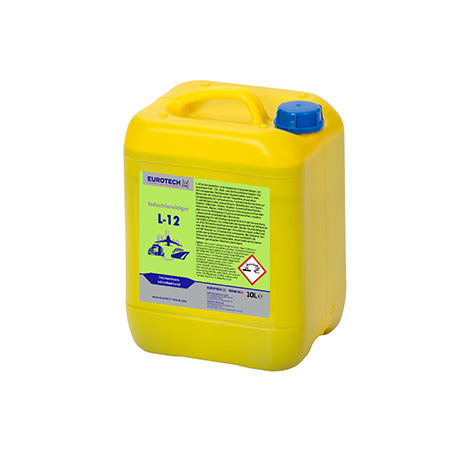 Item no. 837 112 Canister 10 l
PRODUCT DESCRIPTION:
L-12 is a basic, mildly alkaline industrial cleaner particularly effective in dissolving/loosening grease, oil, rust and dirt. The excellent grease-dissolving properties are applicable in all areas of industry and commerce.
APPLICATION AREAS:
A low foaming, highly active concentrate for thorough cleaning of all washable surfaces, such as tiles, stainless steel, clinker bricks, asphalt, plastic surfaces, boats, truck bodies, vehicles and equipment, as well as for cleaning in catering areas and in food processing plants.
APPLICATION:
For cleaning, the use of cold water is recommended. For maintenance cleaning, approx. 200-500ml concentrate is used in 10l water.
For deep cleaning or for particularly stubborn dirt, you should use about 1l of concentrate in 10l of water.
For higher levels of soiling, increase the exposure time and also treat with a sponge or brush. Then rinse well with clear water (high-pressure cleaner).
Safety data sheet
Print product data sheet