Lubex
Adhesive lubricant
to the overview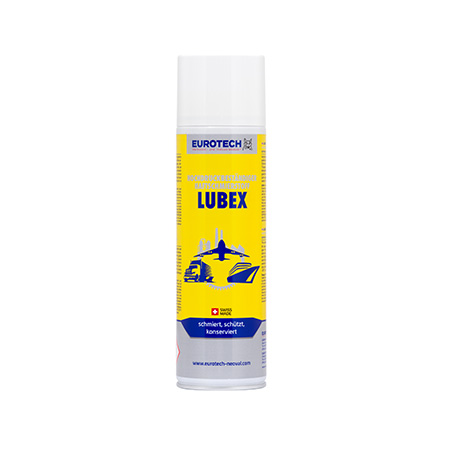 Item no. 814 400 Aerosol can 500 ml
PRODUCT DESCRIPTION:
This adhesive agent is resistant to high pressures and is used for clean and practical lubrication of chains, extension arms, gear rims, hinges, wire rope hoists, gear wheels, gear racks, slide rails, door bolts, drag link ends, etc.
Following the immediate evaporation of the solvent, an extremely adhesive, transparent lubricant film remains – boasting good high-pressure and high-temperature properties. Water and weather resistant. Permanent lubrication is provided even if in constant contact with water.
Optimum penetration capability ensures the lubrication of inaccessible parts. Lubex provides good long-lasting effectiveness with corrosion protection.
BENEFITS:
high adhesive capacity and centrifuge-resistant

excellent penetration capability

resistant to salt water

Temperature range from -30°C to +200°C
Safety data sheet
Print product data sheet