KV-F60
Cavity protection
to the overview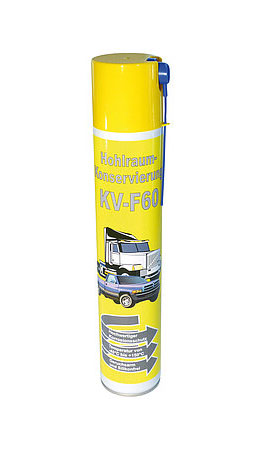 Item no. 015 025 Aerosol can 500 ml
Item no. 015 001 Can 1 l
Item no. 015 010 Canister 10 l
PRODUCT DESCRIPTION:
Very good adhesion on metal surfaces. Infiltrates and drives out any moisture present, does not become brittle, does not drip even in warm temperatures and no hairline cracks are formed. KV-F60 can be applied with an aerosol can, pressure cup spray gun or
airless spray system.
APPLICATION AREA:
KV-F60 features 45% solid content and provides optimum corrosion protection in all areas at risk of corrosion in bodywork and metal constructions such as car underbodies, cavities, edges, folds and surfaces.
BENEFITS:
odourless and clean handling

short drying time (approx. 2 hours)

silicone-free

Temperature range from -40°C to +150°C
Safety data sheet for aerosol can
Safety data sheet for open container
Print product data sheet